About a month ago, I already planned to get an extra phone for a Sun Cellular number. I just didn't want an 'extra' phone. I wanted it to be a useful phone as well. So I surfed the internet for prospect units and ended up choosing between the Cherry Mobile Titan and the Cherry Mobile Flare. It was quite challenging because both units had really good specs for the prices attached to them. I even personally compared both phones by borrowing a Flare and a Titan from my friends. To make it short, I ended up with the Cherry Mobile Flare whose review I shall be sharing in a bit. I am not a tech blogger so apologies if this wouldn't satisfy all information you might want to know. But I shall try to make it read-worthy as possible.: )
To start with, the Cherry Mobile Flare retails at Php3,999 but I got mine for free through Sun Cellular's Fixed Load Plan PhP350.00. With this monthly payment, I get unlimited Sun-Sun calls and texts and 250 texts to other networks. Not bad at all!: ) Let's get to the meat of this post: The Review.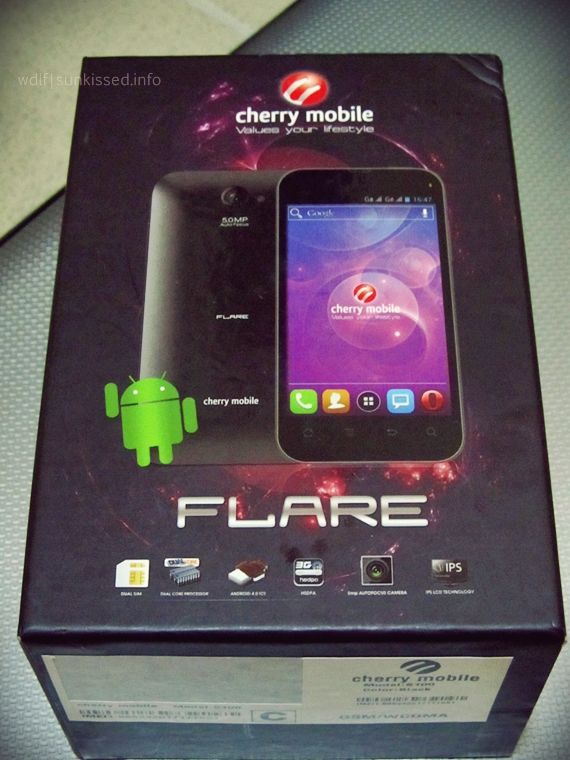 Packaging: The kit contained all the basics. The unit, a charger, a headset, and a user manual.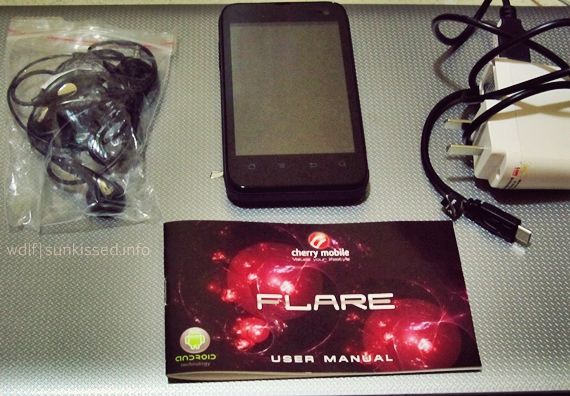 Aesthetics: Physically, the Flare could be – at a distance – mistaken for an iPhone. Haha. But seriously, I should say Cherry Mobile did a good job on the design of this phone. The size is just right for a typical person's hand


Basics:
Calls. I don't know if it's the phone or the line that's causing it, and in comparison with my other phone, the audio quality of the Flare is kind of lacking. Tell me if you're experiencing the same thing.
Messaging. Well, this is the part where I have to laglag the Flare a bit. Honestly, I wasn't very impressed with the keyboard. Ughh. That moment when you type a word then end up reading a different letter – usually the one next to the character you intended to type. Stuff like that. Fast input and accuracy is kind of hard with this phone's keyboard.
Camera. Who said a phone retailing at 3,999.00 has a poor quality camera? Not the Flare. The 5MP camera will definitely meet the typical result of a spec in this bracket.
Applications. Four words. Playstore all you can!: )
Battery. Uh-oh. Another laglagan portion. Brace yourselves for I shall be saying probably the most negative statement on this review. The battery life of the Flare sucks! Really! I don't know how or why they did it but damn! Wouldn't even last a day especially when using WiFi or 3G. You just have to bring the charger all the time!
Conclusion: I still love this phone though. Haha. It basically gives all the services you expect from a smart phone. With the exception of keyboard and the battery life, the Flare is indeed a unit to behold.: )